SANDGLAS Gravity Bong Terp Slurper Quartz Banger Bundle
🚚 Free Shipping
Regular price
$515.99 AUD
Regular price
$411.97 AUD
Sale price
$515.99 AUD
Unit price
per
Sale
Sold out
WHAT'S IN THE BOX???!!!
1 X Seamless Round Bottom Terp Slurper Quartz Banger

1 X Glass Carb Cap with Handle

1 X Enail PID Controller
1 X Heating Coil
1 X GR2 20mm 6 in 1 Titanium Nail 
1 X GR2 Titanium Cap 
1 X Quartz Cap
1 X Power Cord 
1 X User Manual
2 X Silicone Containers 5 ml Capacity
1 X Soft Zipper Packing Box 
2 X Puffing Bird Stickers 
1 X 12 Months Warranty Card
*Every enail kit is covered with our 1-year warranty program, we provide a free exchange for any mechanical program that occurred in this period. 
Gravity Bong Specification: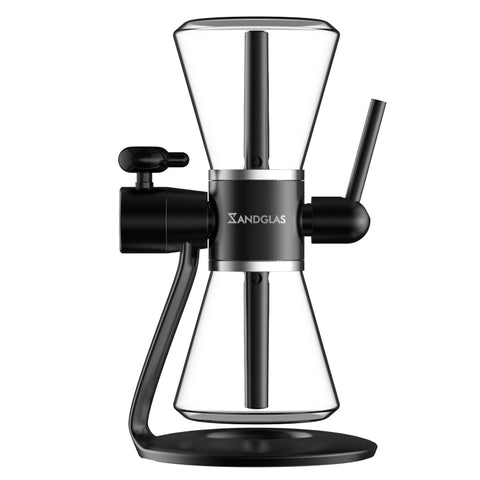 Check out this new SANDGLAS Gravity Hookah Bong on Puffing Bird.
The SANDGLAS gravity bong is a simplified version of classic gravity bong. It features a simple line and two sandglass shape design with stable base. When you rotate the 360° rotating gravity bong, the water flows to the bottom chamber creating opposing airflow, pulling in vapors with the natural force of gravity.
Made of high-quality borosilicate glass and aircraft-grade anodized aluminum, the hookah bong delivers a powerful and impressive smoking experience for everyone.
The Gravity Hookah Bong comes with an pot bowl for dry herbs/flowers/leaves. This gravity bong can last a lifetime under the right maintenance. It packs in a reusable craft box, allowing for safe storage and transportation.
Height: 12.99"/ 33cm
Diameter: 7.95" / 20.2cm
Weight: 11.02lbs / 5kg
Material: Glass&Aluminum
Color: Black, Red, Blue, Gray, Purple,Green
Category: Bongs
Sub-Category: Gravity Bongs, Glass Bongs
Enail Specification: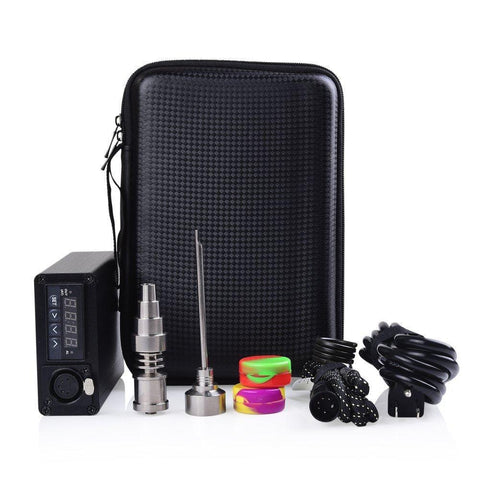 Voltage: AC110V-240V 50-60HZ 
Temperature Range: Room Temperature ~ 999 Degree Fahrenheit 
Temperature stability: Around 5°F-7°F(depends on environment) 
Titanium Nail Joint: 10/14/18 MM Male/Female Joint
Coil Shaped: Barrel (Spiral) 
Length of Coil: 1.5 Meter (5ft) 
PID Dimension/unit: 3.5 x 1.5 x 5.0 inch (93 x 37 x 129 mm) approximately Size
Category: Dab Rigs
Sub-Category: Enail Dab Rigs, Electric Dab Rigs
Quartz Banger Specification: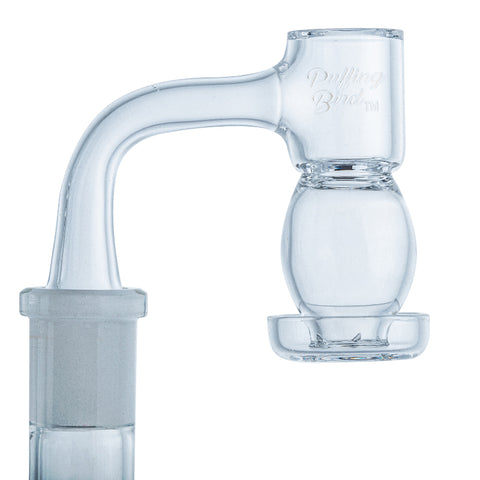 This high-quality seamless straight terp slurper is our newest style. The Terp Slurper Quartz Banger is the latest innovation in the dab nail market.
This seamless round bottom terp slurper quartz banger is designed to vaporize every drop. Load up your concentrates in the bottom dish and watch as the vacuum airflow "slurps" them up through the middle tube. The 14mm male joint size of this banger fits perfectly dab rigs with 14mm female joint size.
This terp slurper quartz banger set is the best way to extend the life of your dab rig and get the most out of your concentrates.
Puffing Bird Logo
14mm Male Joints Available
Seamless Design
20mm Diameter Cup
Thickness: 2.5mm
Height: 2.21"/5.62cm
Weight: 25g
100% High-Quality Quartz
90 Degree
Terp Vaccum Feature
Category:

 

Quartz Bangers
Benefits of Using An Enail Dab Kit
Since the beginning, dabbers had been searching for a safer way to dab.
The whole dabbing process contains 3 steps:
1. Heat the quartz banger/titanium nail to a certain level of temperature.
2. Place your cannabis concentrate of choice onto the banger/nail.
3. Inhale
However, more than 80% of the dabbers have to use a butane torch to heat the bangers, that could be extremely dangerous, the tip of the butane torch flame can reach approximately 1,430 °C (2,610 °F). Now imagine operating a device that generates so much heat when you are high, that can be terrible news for you. Not to mention when you are using a butane torch to heat the nails you can never tell when the nail is ready, especially when dealing with nails that made from different materials. If the temperature of your banger is too low it won't be hot enough to vaporize your concentrates, if the nail gets too hot, it will ruin your concentrate's flavor and possibly generating harmful substances during that process.
That's when the enail dab kits come in handy!
The desktop enail dab kits(or the portable enails) will make your life much easier because it doesn't require any fuel burning to get the nail hot, it uses a heating coil connected to the PID controller which you can set the temperature from 300~1000 degrees Fahrenheit just by a push of a button. 510 degrees Fahrenheit is the best for low temp dabs and 710 degrees Fahrenheit is the best for high temp dabs.
How Do I Know When To Dab?
The heating coil of the enail kit contains a thermocouple sensor, you can see the temperature index on your PID controller to know precisely what's the temperature of your nail/ bangers at. 
Share
FAQs

How much does shipping cost?

Puffing Bird offers free Australia shipping on all orders over $19.99 AUD.

How long does free shipping take?

Free shipping is delivered via Australia Post, and takes anywhere from 7-14 business days.

How long until my order ships?

All orders placed before 2pm EST ship out same day (Mon-Fri). Orders placed after 2pm ship the following business day.

Do you offer discreet packaging?

At Puffing Bird, we completely understand our customers needs for discreet packing. For your privacy, all packages are shipped in unmarked brown boxes or standard Australia Post box with absolutely no information regarding the package's content.
Shipping

Processing Time:  Orders generally ship within 2 business days. Once the order has been shipped, you will receive a notification email with tracking ID. 

Shipping Time For Australia Orders

We'll be shipping international orders from our Hong Kong based warehouse using HK Post (will switch to an Australia Post tracking number once reached Australia) or 4PX for standard free shipping and DHL International Package for express shipping.

Standard shipping delivery is usually within 7~14 business days but can vary due to the location of the customer as well as potential hangups in to customs. 

Express shipping delivery is within 3~5 business days.
Return policy

Puffing Bird is proud to offer the most customer friendly return policy.

If you are unsatisfied with your purchase for any reason, you may file a return for unused items within 7 days of delivery. Due to legal liability, Puffing Bird does not accept returns on items that have been used. You can contact our support team directly via any social media PM or send us an email: return@puffingbird.com
Best Aussie Online Headshop
Free Australia Shipping

Puffing Bird provides free shipping for all orders in Australia. To protect your privacy, standard discreet packaging available for all orders!

Massive Smoking Gear Collection

More than 1000+ bongs, pipes, dab rigs and other smoking related products in PuffingBird's collection with competitive pricing.

Hassle Free Returns

PuffingBird provides free returns and hassle-free refunds for products arrived broken or defects in glass craftsmanship.
Other Hot Selling Smoking Gears