Quartz Enail Kit w/ Pineapple Gravity Bong Bundle
🚚 Free Shipping
Regular price
$643.99 AUD
Regular price
$489.98 AUD
Sale price
$643.99 AUD
Unit price
per
Sale
Sold out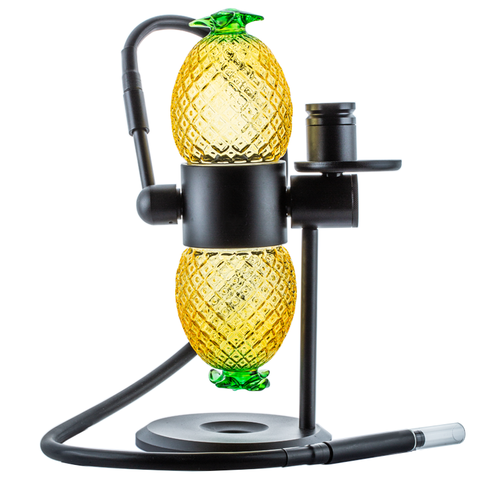 Ready for the stunning performance by this unusual pineapple shape gravity hookah bong?
The 360° rotating glass gravity bong is a delicate instrument with a simple line and elegant design that create kinetic motion activation via cascading water displacement, opposing airflow technology and the natural force of gravity.
That's why the gravity bong will provide you a new clarity of smoking experience. Constructed using the highest quality materials, including cylindrical borosilicate glass globes and aircraft-grade anodized aluminum, the gravity hookah bong will elicit an extraordinary immersive smoking session for everyone.
The Gravity Hookah set comes with an aluminum bowl kit and a glass bowl for dry herbs/flowers/leaves that can also connect to any smoking or vaporization device with a 14mm/18mm male joint.  Included is a 3-foot silicone hose that can be connected for direct draws, hydrated smoke is forced-air delivered, allowing for a contactless experience. 
This gravity bong can last a lifetime under the right maintenance. It packs in a reusable craft box with a handle, allowing for safe storage and transportation. Our sleek design ensures the best possible smoke; every single time!
WHAT'S IN THE BOX:
SPECIFICATION OF GRAVITY BONG:

WHAT'S IN THE BOX???!!!
*Every enail kit is covered with our 1-year warranty program, we provide a free exchange for any mechanical program that occurred in this period. 
 Product Specification: 
Benefits of Using An Enail Dab Kit
Since the beginning, dabbers had been searching for a safer way to dab.
The whole dabbing process contains 3 steps:
1. Heat the quartz banger/titanium nail to a certain level of temperature.
2. Place your cannabis concentrate of choice onto the banger/nail.
3. Inhale
However, more than 80% of the dabbers have to use a butane torch to heat the bangers, that could be extremely dangerous, the tip of the butane torch flame can reach approximately 1,430 °C (2,610 °F). Now imagine operating a device that generates so much heat when you are high, that can be terrible news for you. Not to mention when you are using a butane torch to heat the nails you can never tell when the nail is ready, especially when dealing with nails that made from different materials. If the temperature of your banger is too low it won't be hot enough to vaporize your concentrates, if the nail gets too hot, it will ruin your concentrate's flavor and possibly generating harmful substances during that process.
That's when the enail dab kits come in handy!
The desktop enail dab kits(or the portable enails) will make your life much easier because it doesn't require any fuel burning to get the nail hot, it uses a heating coil connected to the PID controller which you can set the temperature from 300~1000 degrees Fahrenheit just by a push of a button. 510 degrees Fahrenheit is the best for low temp dabs and 710 degrees Fahrenheit is the best for high temp dabs.
How Do I know When To Dab?
The heating coil of the enail kit contains a thermocouple sensor, you can see the temperature index on your PID controller to know precisely what's the temperature of your nail/ bangers at. 
Quartz enail banger takes longer to heat than a titanium enail banger, titanium enail banger will heat faster due to its titanium material characteristics. But the quartz enail sets provides a smoother taste than the titanium enail set.
Portable enails (Or hnail/h enail)are also very popular now. Portable enails looks like your everyday vape pen except that it has a mini dab rig that contains water for a smoother dabbing experience. The Puffing Bird Portable Enail (for sale at the moment)Set contains two pairs of nails, a titanium one, and a ceramic one, you can choose any one of them to enjoy your concentrates.
There are a lot of cheap enails out there charging next to nothing for them, but be very careful because many of them will not use high-quality parts to make, they will even use low quality titanium even stainless steel to pass as grade 2 titanium. The enail coils will also be pretty crappy and won't last long until the PID controller shows "EEEE" on the screen. That means the thermocouple sensor in the enail coil has defected and you will need to spend $50 even $100 to buy a replacement coil for your enail set.
Here at Puffing Bird, we have the best enail kits, period! You'll find enail dab kits selling in your local headshop that costs possibly $300 or $500, you can get the same set for under $150 on Puffing Bird. Not to mention we have a 3 years hassle free return/repair policy covering all our enail sets.
We work with professionals to make sure that our enail dab kit is safe to use and affordable. No need to take the risk of burning your house down with your DIY enail! 
Here at Puffing Bird we also have many different enail sets for different occasions. Like the pelican enail and the nectar collector enail. We also sell our enail dab kit with dab rigs in a bundle, you can't find any deal better than what you'll get on Puffing Bird. 
We continuously do reviews of our enail dab kits, check out Puffing Bird's Youtube channel and you'll get a 10% off coupon if you subscribe to our channel!
The enail dab kits usually come in 3 parts. The PID controller, the heating coil(often comes in 20mm or 16mm) and the titanium nail or the quartz banger.
If you like going out to the open and enjoy a nice dab, a dab pen/wax pen will be the best for you, dab pens or wax pens can vaporize your wax/shatter/oil in its 510 atomizers offering the best flavor on the go! 
Some of us like a more old-school way of smoking, which is vaping weed, it's quite simple, grind your weed/herb and put it in the heating chamber of the dry herb vaporizer pen and at the push of a button, you got smoke!
For Puffing Bird™, our enail&vaporizer series are the crown jewels of our product line, they are well designed, well-priced, and with the only FREE 1-year hassle-free warranty, there is just no one else up to this standard and commitment on the market.
Share
FAQs

How much does shipping cost?

Puffing Bird offers free Australia shipping on all orders over $19.99 AUD.

How long does free shipping take?

Free shipping is delivered via Australia Post, and takes anywhere from 7-14 business days.

How long until my order ships?

All orders placed before 2pm EST ship out same day (Mon-Fri). Orders placed after 2pm ship the following business day.

Do you offer discreet packaging?

At Puffing Bird, we completely understand our customers needs for discreet packing. For your privacy, all packages are shipped in unmarked brown boxes or standard Australia Post box with absolutely no information regarding the package's content.
Shipping

Processing Time:  Orders generally ship within 2 business days. Once the order has been shipped, you will receive a notification email with tracking ID. 

Shipping Time For Australia Orders

We'll be shipping international orders from our Hong Kong based warehouse using HK Post (will switch to an Australia Post tracking number once reached Australia) or 4PX for standard free shipping and DHL International Package for express shipping.

Standard shipping delivery is usually within 7~14 business days but can vary due to the location of the customer as well as potential hangups in to customs. 

Express shipping delivery is within 3~5 business days.
Return policy

Puffing Bird is proud to offer the most customer friendly return policy.

If you are unsatisfied with your purchase for any reason, you may file a return for unused items within 7 days of delivery. Due to legal liability, Puffing Bird does not accept returns on items that have been used. You can contact our support team directly via any social media PM or send us an email: return@puffingbird.com
Best Aussie Online Headshop
Free Australia Shipping

Puffing Bird provides free shipping for all orders in Australia. To protect your privacy, standard discreet packaging available for all orders!

Massive Smoking Gear Collection

More than 1000+ bongs, pipes, dab rigs and other smoking related products in PuffingBird's collection with competitive pricing.

Hassle Free Returns

PuffingBird provides free returns and hassle-free refunds for products arrived broken or defects in glass craftsmanship.
Other Hot Selling Smoking Gears